It's Okay Not to Be Okay
"And I am certain that God, who began the good work within you, will continue his work until it is finally finished on the day when Christ Jesus returns." Philippians 1:6 (NLT)
My darling mom died two years ago. I miss her every day. I don't think anything quite prepares you for saying goodbye to your mom. After her funeral in Scotland, I stayed several days to help my sister, Frances, go through Mom's things. One treasure I brought home was the little Bible that always sat by her bed. She'd received it in December of 1942, when she was 13 years old. She wrote on one of the blank pages, "Grace is undeserved favor. It is love stooping."
We spent several hours going through Mom's big red box of family photographs. "Did you really mean to have purple hair?" my sister asked with a smile, holding up a photo that showed one of my more creative choices. "Yes," I said, grinning back. "Sadly, that was intentional."
I paused on a photograph from the day I graduated from seminary. I remember that day so well. I was 21 years old. My hair in that season was dark and very short. I had to have most of it cut off after a disastrous experiment with a perm. I looked at my smiling face, confident I would now go out and change the world for Jesus. I remember my mom saying to me that day: "God began this good work in you, Sheila, and He will continue His work until you see Him face-to-face." I wish I'd listened to those words more carefully. I wish I'd understood the liberating truth that God is the one who begins His work in us, and He will complete it. I thought it was up to me.
8 Habits That Kill Your Metabolism (an article modified from My Fitness Pal)
I receive health and fitness emails regularly from multiple sources. How many of you grow weary and poor from the promises of this product or this diet that will finally get your body to respond miraculously and shed those mid-life crisis pounds that simply will not come off.
A My Fitness Pal email caught my attention today entitled "8 Habits That Kill Your Metabolism." Although more recently I have been deleting and unsubscribing, I decided to read the 8 reasons and counter with my OWN 8 habits that I happen to know are inhibiting my weight loss. Let's see which one you agree with more and let me know if you have your own ideas.
My Fitness Pal list (without descriptions) is as follows:
Skipping breakfast
Eating the wrong breakfast
Sitting too much
Neglecting strength training
Not getting enough protein
Not getting enough sleep
Not drinking enough water
Stressing out
I'm a horrible neighbor. Well, I do wave when I pass someone out in their yard but gone are the days when parents sat outside as their children played, visited and even shared a glass of lemonade or iced tea. I can't blame the culture but think about it, you must hurry home to fix supper or you have a project to work on. I know that's been my excuse for years. There were times the power went out or a storm blew down some trees, then we saw the neighbors, but I'm extremely guilty of running into the house and doing my thing.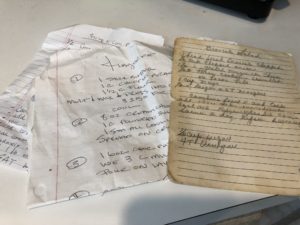 I don't really remember what I was looking for, but the kitchen drawer was the spot I chose to start. Everyone has "that drawer" in the kitchen, be honest, everything paper and otherwise that you have saved is there. Addresses, recipes, pens, birthday candles, I could go on and on. As it turns out I found several recipes, some I had made before and some not. I picked three and decided to rustle up all the ingredients and make them.
After a hundred-dollar trip to the grocery store, I was ready to proceed. My son and his family were on the way home from a trip and I wanted to prepare a great meal, so I chose three out of the ordinary (for me) recipes to make. I will share these recipes at the end of this post.
There is a certain significance to these recipes in that my mother-in-law, Kathleen McDonald, who had a huge impact on my cooking and all-around housekeeping skills, wrote one of these recipes with her own hand. She's been in Heaven for about ten years now, so it was particularly moving for me find this recipe. That was the Broccoli Salad. The Four Layer Pie, our all-time fave, was another recipe, although written by me, but was another family recipe I got from Grandma.
She was what I would call a precise cook. As I put these recipes together, I was reminded of her special and neat way she cooked, especially the Four Layer Pie, because you could see the layers both defined and beautiful. The Broccoli Salad was cut in tiny little pieces, again, precise and beautiful to behold. My daughter pointed this out when we ate mine, but, oh well, it's me. As I was pressing the crust into the pan for the pie, and thinking of Grandma McDonald, I sized my cooking skills up as too good for "Worst Cooks in America," yet not good enough for "Chopped." Funny what you think about when you're cooking.
That to-do list God has for you today most certainly includes prayer. And you can't go wrong using the mnemonic device ACTS: Adoration. Confession. Thanksgiving. Supplication.
The word "adoration" reminds us that God is worthy of praise and his awesomeness should bring us to our knees. He's not just  more magnificent than the Grand Canyon or Niagara Falls, he is the Creator of those natural wonders. If we start our prayers with humble adoration to a glorious God, we're headed in the right direction.
Confession  breaks the hold of sin in our lives so we can pray from a clean slate. God already knows where we fall short of his glory, but doing our own personal inventory  will surely lead to an attitude of repentance. Confessing our sins begins the process of breaking the pattern of sin. The exciting news is that when we come to God for forgiveness, he has already forgotten our sins, casting them away "as far as the east is from the west" (Psalm 103:12).Continue reading→
5 Tips to Help Moms Cope with Stress
Even with a clear game plan in mind, raising kids properly is one of life's richest challenges. It is not uncommon for a mother, particularly, to feel overwhelmed by the complexity of her parental assignment. In many homes, she is the primary protector for each child's health, education, intellect, personality, character, and emotional stability. As such, she must serve as physician, nurse, psychologist, teacher, minister, cook, and policeman. Since in many cases she is with the children longer each day than her husband, she is the chief disciplinarian and main giver of security and love.
The reality is that she and her husband will not know whether or not she is handling these matters properly until it is too late to change her methodology. Furthermore, mom's responsibilities extend far beyond her children. She must also meet her obligations to her husband, her church, her relatives, her friends, and often times, her employer. Each of these areas demands her best effort, and the conscientious mother often finds herself racing through the day in a breathless attempt to be all things to all people.
I ask my mom this question every year. But I know the answer. "Nothing." So, as a mom myself, I know what she means. "Something." By something, I mean, remember me, call me, send a card, send flowers, come for a visit, take me out to eat, write me a note, draw a picture, just something as a reminder of me being your mom.
If that wasn't clear enough, allow me to elaborate. If you are blessed to have a mother on this earth, there is nothing she would like better than a call from you this Mother's Day. FaceTime is even better. And a visit, well, that's the coolest! We all get busy and the days blast by, however, Mom is special, and she deserves your undivided attention for at least a little while on this special day.
Here Today Gone Tomorrow
I don't mean to be trite, but two funerals in two days, really? I have never been more aware of the frailty of life as I am right now. In reverse order, last Thursday our sweet friend, Tressa, breathed her last breath. When the cancer metastasized, she was doomed. No one more precious, a young mother, wife, lover of Jesus and just all-around good person.
A few weeks ago, our friend, "Brother Jim" was working on his computer one night after his wife went to bed and just died. He just peacefully died.
You Hurt When You Heal
I hurt my lip. All my dermatologist friends will cringe if they read this. I was at the beach for an early spring outing with my children and even bought sunscreen on the way. But I forgot to tend to my lips.
With that, a huge swelling sore came up and it was not pretty. After caring for it for 2 weeks, it has finally gone down to a manageable red spot. Still tender, I got to thinking about how awesome healing is. But you hurt when you heal.

Order "The Gospel Parade" Today!
Amazon.com (search The Gospel Parade BOOK or search my name)
       (sign up to help Joe McDonald Ministry on *smile.amazon.com, no charge! *note, Amazon Smile is shutting down this year, please order on regular Amazon and thank you for your support, always!)
OR
Order from my website, priority shipping included!
Order NOW, $20.00 includes shipping (Hardbound Only)
Email me from my contact page for multiple copy or bulk order discounts!
Don't miss
 "The Gospel Parade!" Second printing!
A great way to share the Gospel with your children
and grandchildren. A "read to" or read on their own,
    target audience is 4-9, but all ages will enjoy this!
The first edition was published in 2011, with just a few changes in the pictures, this is the same story that thrilled all of our readers!
Our friends at "Wee Can Know" even made shoebox floats of this beautiful parade (pictures in blog post!) Available now in
hardbound and softbound and at a reduced price!
Order yours today! Search "The Gospel Parade."
The 2023 Edition of Sunsets on Mobile Bay available NOW! Volume XII is awesome!
Click here to preview and order:
Sunsets on Mobile Bay Calendar Volume XII is available on Lulu.com, featuring the award-winning photography of local artist, Tommie Peterson. Tommie has delivered on the most fantastic photos yet! Volume XII, 12 years of calendars and if you've been getting one every year, you won't be disappointed! Lovely views of the Mobile, Alabama skyline with the most gorgeous sunsets ever! $1.00 per calendar is donated to Joe McDonald Ministry after printing costs. Thank you to all of our ministry supporters for you faithful giving! For more information on Joe McDonald Ministry, visit our FaceBook Page or website, JoeMcDonaldMinistry.org
Be sure to use a LULU.com discount code for extra savings!
Order here:
Memorial Day 2023

Professional Mom
Be safe and remember our fallen!
Graduation? Birthday coming up? Retirement? Or just because! Here's the gift that always fits! Give with assurance that it WILL be used! I l recommend Amazon! Please use my link above for all of your shopping needs!