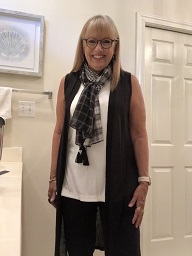 Life gets busy y'all. I'm not kidding. I blinked my eyes and I am in my 60's. How did that happen? I am grateful for my life, don't get me wrong. God has blessed me with countless blessings. Unfortunately, one of those blessings was to eat anything I wanted, any time I wanted. Now, this was great during my years when I had hormones and metabolism, now, not so much.
Since my late 30's, when I absolutely discovered the scale for the first time in my life, other than doctor visits when having the 6 children I already had at that time, it became my constant companion. And for many years, decades really, I have weighed myself consistently, as if as a daily devotional task.
Up and down, up and down, never really down as far as I wished, and many dollars and hours of wasted effort later, I kind of gave up. I say kind of, in that, I vowed (a teeny tiny vow that was to nobody in particular) to never spend another dollar on weight-loss products.  The piece de resistance of my plight was the word OBESE on my doctor well visit reports that I kept getting for the last few years. Just knock me down why don't ya?
When you talk about emotional rollercoasters, you need only look at me. Although my highs were higher than my lows were low, I still bought a Spanks something every time I shopped. I had up and down confidence issues about my weight both in my job and at home. I had read years ago that when you look good to you, that doesn't mean you look the same to others. This caused me to second guess every outfit. My closet looked like a war zone and I ended up wearing the same thing for every occasion. Black was my favorite color. My prayer became, "Lord, I've tried everything, now it's up to you…"
My final health journey which I plan to be on forever until I die and which I am smack in the middle of right now, started this past February 1, 2020. I went to Hawaii to visit a close friend over New Years, she has always been thin in my remembrance and is in her 80's now, spry as a 16-year-old. Good metabolism, I presumed. Anyway, I was at my all-time highest weight and as we walked her dog together, I even had trouble getting out of her car, clasping my shoes, etc., we discussed different remedies to my dilemma. My weight kept going up, not down, no matter what I did.
I traveled home, loving my friend and my trip, but still disappointed about my weight. A final (I'll explain) OBESE check up was rendered when I got home.
I had been seeing some posts on Facebook and Instagram of before and after pictures of people who had lost significant amounts of weight. We, as consumers are bombarded with these pictures everyday from some company or another. But this was different. A person I had graduated with in Little Rock in 1970 had become my friend on FB and was now a "healthcoach" for a company that I had to search her profile to find. This was different, no mention of the company, no selling, curious…
I looked up Optavia and it was a food thing. But I was still interested in finding out how these people had gotten such amazing results. And it was not packaged as a lose weight fast program, which I knew I could work with. It (the weight) hadn't gotten on fast, I knew it would take some time.
I called Gail, who had moved about an hour away from me, and asked to meet her for lunch to "talk about" this program she was offering. We had lunch and she explained the program, 5 "fuelings" a day and 1 big meal you make yourself with good food choices, called "Lean and Green." I asked about supplements, "no supplements," she said. I said, "Sign me up!"
That was January 2020, now June 2020 and 22 pounds lighter (still going) I feel better than I did in my 40s. The science and ideology behind this program, which by the way, has been around for over 30 years, is pretty awesome. It puts you in a slow fat burn which, for me, works great. A lot of people, mostly younger and with tons more weight to lose, lose more quickly and greater amounts, but I am happy with my "slowness." I just remember, each month when I order my fuelings, why I'm doing this and that I can't wait to see my doctor in July!
I'll post an update when I reach my goal weight loss of 30 pounds, in the meantime, if you are interested in learning more about this phenomenal company and health program, let me know, as now, I have become a health coach for Optavia! #professionalmomhealthcoach #optaviacoach
I wish you the best healthy day!
Patti McDonald Professional Mom & Optavia Health Coach