I have friends that read a story to their children every night and that is a special time with mommy or daddy that nothing can replace. If I had any regrets, not sustaining the ritual of reading to my children would be high on the list. Some parents read the same story over and over, and again, there is nothing wrong with that. Do you have a favorite book or story you read to your little ones? I honestly think this not only contributes to a child's development in learning, but provides a sweet bond with their parents that will influence them for a lifetime.
Here's a suggestion for your reading list! "The Gospel Parade" is a simple story of a boy who hated Sunday School. I wrote it several years ago and had it published in 2011. My daughter, Sarah, a brilliant artist, did the illustrations. It's colorful, easy reading, and provides the perfect bedtime story to introduce your children to the Plan of Salvation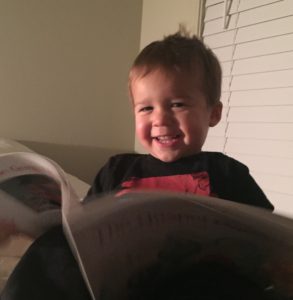 My precious great-nephew, Griffie, loves learning  about  Jesus! 
The second edition, with updated pictures is NOW available here on professionalmom.com  (hard cover only) $20.00 includes shipping! Get your copy TODAY! Email me from my contact page for multiple copy discounts!