It seems that we are all afraid of something. I will share some of my fears and I would like you, as you read this, to contemplate yours. Fears take on different aspects, they could be inward or outward, but this is not about the fears themselves, but what we do with them.
I'll start with one of the fears I have identified in myself. That is, fear of success. By that I mean, some of the opportunities I have been faced with over my life, may have produced good results, however, I got in my head and declined to proceed or went a little way and then gave up. One way these fears have manifested is my confidence in writing. Although I have had a blog for twenty years now, and have even self-published a children's book, "The Gospel Parade," I have failed to put 100% into the process, some because of limited funds, but also because I have a habit of saying to myself, "Who would read this? Would 'they' be interested? Who really cares what I have to say?"
I am currently working on a book, "Why Do You Want to Go to Hell?" and have gone through most of the negative head-speak through the process. Except for prayer and patience through writer's block, I would have given up on this, now, yearlong project. But in an effort to press on, I am still working on it and should have it ready by years end.
As an aside, my 92 year old mom decided to read all of my blog posts (professionalmom.com) as a pastime the other day and when I asked her what she thought, she said, "You should be a writer, I didn't know you could write!" "You should write a book." It reminded me of the time I sang a song in a Junior Miss pageant and when it was over, she said, "I didn't know you could sing!" It's funny to me, and kind of a "left-handed" compliment, but it made me feel so encouraged and special, even though I have been a "writer" for many years and have published a book. Thanks, Mom!
But I digress. Fear of success. This is my most relevant fear. Recently, I was stuck in a rut with weight loss. Although I have never, until recently, had a major spike in my weight, it seems that I could not lose, no matter how hard I tried. I had spent more than I will say on tricks and pills, so needless to say, I was done. This is what God did for me. He sent me a weigh loss, health program that actually works and I am now enjoying the success of this new adventure.
Years ago, I launched a modeling career. It was quite bold for a mom of six and it was very local, however, I would not work certain hours and besides being a petite model before it's popularity, my family came first and my "career" was short lived. Fear of success, maybe.
I've taken piano lessons, can't play, tennis lessons, no team. What in the world am I afraid of?
Do you have something that you have been putting off with non-productive "self-talk?" I encourage you to take it to the Lord in prayer and if there is a positive "go-ahead," from above, just do it! Fear of success has a stronger hold than fear of failure, in my opinion. I have seen people hold back from many ventures and adventures because of it. What are you afraid of?
My theme of "Fears" has taken a track pertaining to what we do. But there are other fears just as relevant. I don't mean like fear of spiders, snakes, or rats, although these are at the top of my fear list. I am thinking of fear of sickness or fear of death. Or fear of these things for loved ones. We have all crossed this path at some time in our life, if we are old enough.
My greatest comfort in all of life's fears is knowing Jesus as my Savior. He tells us in His Word, to "fear not." Not just once but many times. Whether it's fear of failure, fear of success or fears such as sickness or death, our only hope is Jesus Christ and praying for His will to be lived out in our lives. It doesn't hurt to jump into an adventure with the hope of blessing, and it doesn't hurt to go down a path that is uncertain, with Godly direction. It does hurt when our fears keep us from living a life that is "the best" and just settling, or worse, living a defeated life.
Let's strive to do whatever it is God has for you, the best, the most abundant life possible. Use your gifts, not just for gain, but to bless others. And finally, "Fear Not!"
John 14:27 – Peace I leave with you; my peace I give you. I do not give to you as the world gives. Do not let your hearts be troubled and do not be afraid.
By Patti McDonald Professional Mom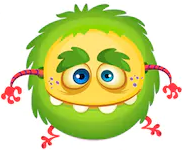 Monsters by Vector