I know better…no one wants to start working out during the holidays!
But I couldn't help sharing this Workout Challenge I found on the Internet! I started it 2 days ago and it is so easy and fast, any mom (or dad) has time for it. I plan to do it and see if I have any results. It takes about 5 minutes a day.
Let me know if you try it and how you do! I am the world's worst about regular exercise routines but I may be able to stick to this one.
Let's do it together, or if you want to wait until the New Year, save it to your computer or phone and try it then!
I'm in!!!
Workout Challenge or bust!
Professional Mom
Order The Gospel Parade Today!

Don't miss
 "The Gospel Parade!"
A great way to share the Gospel with your children
and grandchildren. A "read to" or read on their own,
    target audience is 6-10, but all ages will enjoy this!
Sunsets on Mobile Bay 2018 Calendar!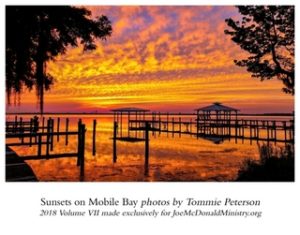 Available NOW, Volume VII of Sunsets on Mobile Bay. With amazing photography by Award-Winning photographer, Tommie Peterson! For the 7th year in a row, Tommie has donated his time and pictures to make this calendar, all proceeds (after printing) go to Joe McDonald Ministry (JoeMcDonaldMinistry.org.) 
It's not too late to enjoy these beautiful scenes, but hurry so you don't miss too much of the year! Lulu.com prints on demand and it takes about 2-3 weeks to receive your order. Thanks in advance and enjoy this beautiful calendar for 2018! These will not be offered after February!