Now more than ever, families need prayer. I am sending a challenge to all families to pray together at some time each day. Rally the troops, put down your phones and devices and pray. Make a plan to have family time (even 10 minutes) and prepare your family for the days ahead. This will be a task at first, but within about 20 days, it will become a habit and bless you beyond anything you have experienced. Take a few items on the list and work your way to the end, you will be blessed and your family will be building a great foundation in the Lord.
Professional Mom
Order The Gospel Parade Today!

Don't miss
 "The Gospel Parade!"
A great way to share the Gospel with your children
and grandchildren. A "read to" or read on their own,
    target audience is 6-10, but all ages will enjoy this!
Sunsets on Mobile Bay 2018 Calendar!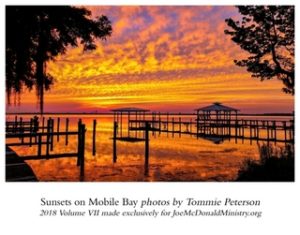 Available NOW, Volume VII of Sunsets on Mobile Bay. With amazing photography by Award-Winning photographer, Tommie Peterson! For the 7th year in a row, Tommie has donated his time and pictures to make this calendar, all proceeds (after printing) go to Joe McDonald Ministry (JoeMcDonaldMinistry.org.) 
Great for Christmas gifts, but order early, Lulu.com prints on demand and it takes about 2-3 weeks to receive your order. SAVE! SAVE! SAVE! Use discount code BOOKSHIP17 through November 20th and save 10% on your order, plus 50% on shipping!!!  Thanks in advance and enjoy this beautiful calendar for 2018!

HAPPY THANKSGIVING
FROM PROFESSIONAL MOM!