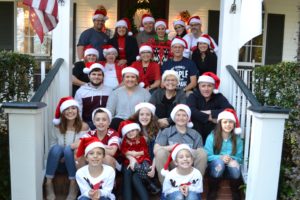 It was the 4th of January and I felt compelled to undecorate. My decorating has dwindled over the last few years as I became weary with putting lights all over the outside of the house and trees in every room. It seemed right to put little sparkles of twinkly lights on several tables and my big credenza in the den, along with my outside, less sparkly, adornment of wreaths and bows that I have had for many years. My husband pared down his extensive yard art to a tasteful white Nativity scene which I have been loving for the last two years. But now it was time to take the sparkles and put them away for another year.
As I brushed off sequins from my marble-topped buffet, I reflected on the last week of celebrating. What fun we had with four of our six children, grandchildren and other relatives and friends for our annual Christmas Eve dinner and present crazies. I had purchased Santa hats for all for our picture and it went beyond better than I had planned. My eighty-nine-year-old mommy got to join us along with my sister, which was a treat.
For the first time, two of my granddaughters brought most of the food, and one daughter did her usual favorites, like green bean casserole and mac and cheese. My other two daughters brought some yummy fare, including but not limited to deviled eggs, yum! This was the first year in a million that I didn't cook the turkey, perhaps I was burned by a recent Thanksgiving debacle, my turkey didn't thaw, nuf said.
Disassembling the train I had gotten to go around the tree, I couldn't help but think of my friend who lost her only son on Christmas Eve in a tragic wreck. At six o'clock in the evening as we were eating and celebrating, he and his cousin, who survived, but barely, were stopped in their tracks as they went for a ride. We attended the funeral yesterday and it was hard for us, harder for the family. I was praying for my friend as she takes down her Christmas décor, life will never be the same.
Now it was time to take off the ornaments, put away the tree and get the house back to "normal." My late mother-in-law used to say, "There's nothing as over as Christmas." I didn't like her saying that, however, I found over the years, she had a lot of right in that statement. I have rebelled over the years by leaving my decorations up just a little longer than is stylish, but truly, isn't Christmas all year long?
The house was back to its yearly state in no time, just a few bed sheets to wash and boxes to store, another Christmas under our proverbial belt. I am blessed, I am thankful, I am charged with praying for my friend and others who have lost loved ones or are lonely during this time in our lives. God sent His Son into the world to die for us. Christmas is ever that for me and mine. And that is all year long, decorations or not.
"For unto you is born this day in the city of David, a Savior, who is Christ the Lord." Luke 2:11
Love at Christmas and always,
Professional Mom