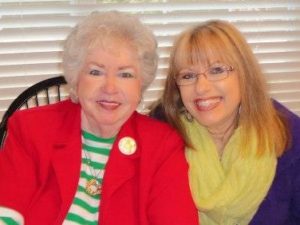 Mom & Me
Everyone, almost without exception, loves their mom. Moms are our role-models, our confidants, our heroes. They give us our life, food and hugs. Moms are great. My mom, Norma Nodar, is the greatest.
If you know her, or have ever been remotely in contact with her, by that I mean, sell insurance to her, paint her house or help her at the store, you have probably gotten a card from her. This in and of itself is a blessing to multitudes. My siblings and I have 15 children between us, plus now, their spouses. Every one of us receive not only birthday cards but Thanksgiving, Easter and other various holidays. Our plethora of grandchildren, at least 40 (which includes the great-grands and steps,) have received their birthday cards with a crisp five-dollar bill until their 18th birthday! After that, they continue to get a card (usually with a decorated envelope) until, well, I guess forever.
But wait, I mentioned if you were remote contact, which means not only venders and businesses, but friend's birthdays, illnesses, congratulations, shut-in encouragement and sympathy cards, sent, by the way, every single day.