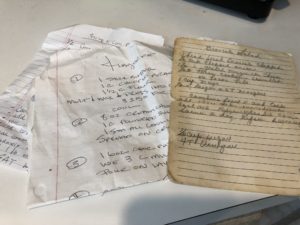 I don't really remember what I was looking for, but the kitchen drawer was the spot I chose to start. Everyone has "that drawer" in the kitchen, be honest, everything paper and otherwise that you have saved is there. Addresses, recipes, pens, birthday candles, I could go on and on. As it turns out I found several recipes, some I had made before and some not. I picked three and decided to rustle up all the ingredients and make them.
After a hundred-dollar trip to the grocery store, I was ready to proceed. My son and his family were on the way home from a trip and I wanted to prepare a great meal, so I chose three out of the ordinary (for me) recipes to make. I will share these recipes at the end of this post.
There is a certain significance to these recipes in that my mother-in-law, Kathleen McDonald, who had a huge impact on my cooking and all-around housekeeping skills, wrote one of these recipes with her own hand. She's been in Heaven for about ten years now, so it was particularly moving for me find this recipe. That was the Broccoli Salad. The Four Layer Pie, our all-time fave, was another recipe, although written by me, but was another family recipe I got from Grandma.
She was what I would call a precise cook. As I put these recipes together, I was reminded of her special and neat way she cooked, especially the Four Layer Pie, because you could see the layers both defined and beautiful. The Broccoli Salad was cut in tiny little pieces, again, precise and beautiful to behold. My daughter pointed this out when we ate mine, but, oh well, it's me. As I was pressing the crust into the pan for the pie, and thinking of Grandma McDonald, I sized my cooking skills up as too good for "Worst Cooks in America," yet not good enough for "Chopped." Funny what you think about when you're cooking.
I said there were three recipes, the third was handwritten and I didn't know whose writing it was. But it intrigued me, so I went with it. It was a Corn and Shrimp Bisque. It seemed doable delicious. I also had a meal kit from Publix, Spicy Shrimp Panzanella, so why not?
It was Sunday so we went to church, had an out to eat and took a "to-go" to my mom, as is our routine. After a short visit, I got busy in the kitchen. First, I put together the Broccoli Salad, then pressed the crust for the pie into a long Pyrex dish and baked it. I got the layers ready, but the crust had to cool, so I started chopping the vegetables for the bisque. So here comes my daughter, to help me chop and prepare! Yay Nicole! I saw a Super Girl cape flapping in the wind as she flew into the kitchen.
She also collected my son and his family from the airport, so she was a double superhero. Anyway, the pressure was on to get this meal finished for supper and it was about three o'clock by now.
We put the bisque together, I finished layering the dessert and the broccoli was already chilling. We made the Publix meal together and waited to assemble the ingredients until just before supper, it was made with warm Naan bread, lettuce, shrimp and dressing. It recommended serving on a platter and actually turned out pretty good.
There were some rave reviews from this out of the ordinary dinner I made with those found recipes. And I guess the moral of this story is, you never know what you'll find in "that drawer" in the kitchen. Be open to possibilities of found recipes.
Be sure to scroll down for these great recipes!
Broccoli Salad:
1 head fresh broccoli, chopped in small pieces
½ C chopped onion
1 ½ C grated mozzarella cheese
½ LB bacon, cooked and crumbled (or bacon bits)
1 C Mayo
½ C sugar
4 Tbs vinegar
Combine first 4 ingredients and toss, add last three, toss (sugar to taste).
Best if refrigerated a day before serving.
***********************
Shrimp and Corn Bisque
½ green pepper
½ orange pepper
½ red pepper
1 medium onion
½ cup green onions
4 stalks of celery
1 can sweet corn
1 can cream corn
1 can cream of celery soup
Crab boil (dry)
2 Lbs shrimp (frozen or fresh)
½ stick of cream cheese
1 pint of heavy cream
Chop and cook vegies until clear in olive oil
Add shrimp and 1 Tbs crab boil
Stir in cream cheese
Add corn and cream of corn
Add cream of celery soup
Add 1 Tbs of crab boil and stir
Eat with French bread!
*********************
Four Layer Pie
1 stick butter
1 C chopped pecans
1 ½ C flour
Melt butter and mix with flour and pecans, press into casserole dish, bake 325 degrees for 25 minutes. Cool before assembling.
8 oz cream cheese, softened
1 C powdered sugar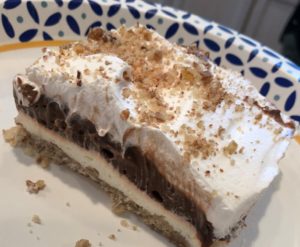 1 small Cool Whip
Mix together and spread on crust
1 (6) oz instant chocolate pudding mix
Use 3 C cold milk
Pour on layer when set
Cool Whip only, garnish with crushed pecans
ENJOY!