She looks perfect doesn't she? By Trish S.
This is the face of a girl who desperately wants to make friends, but doesn't know how approach people or start conversations.
This is the face of someone who doesn't know how to respond correctly in a lot social situations …
This is the face who knows what she feels, but just can't come up with the words to express it.
This is the face of Autism. Claire is affected by Asperger's. She is considered to be "high functioning" and has always blended in at school academically. There has never been a need for special Ed classes. She is actually extremely intelligent and quite hilarious at times. Today when I got home from work, she told me that no one talked to her at school today. She felt ignored by some girls when she tried to speak to them. My little girl is so hurt and my heart aches for her.Continue reading→
Order The Gospel Parade Today!

Don't miss
 "The Gospel Parade!"
A great way to share the Gospel with your children
and grandchildren. A "read to" or read on their own,
    target audience is 6-10, but all ages will enjoy this!
Sunsets on Mobile Bay 2018 Calendar!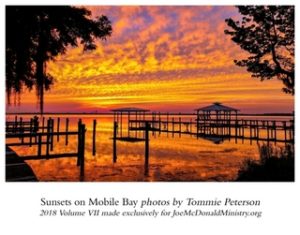 Available NOW, Volume VII of Sunsets on Mobile Bay. With amazing photography by Award-Winning photographer, Tommie Peterson! For the 7th year in a row, Tommie has donated his time and pictures to make this calendar, all proceeds (after printing) go to Joe McDonald Ministry (JoeMcDonaldMinistry.org.) 
It's not too late to enjoy these beautiful scenes, but hurry so you don't miss too much of the year! Lulu.com prints on demand and it takes about 2-3 weeks to receive your order. Thanks in advance and enjoy this beautiful calendar for 2018! These will not be offered after February!