The Power of Words
"Sticks and stones will break your bones, but words will never hurt you!" I heard this as a child and was not challenged to think it untrue. But it is…untrue, that is. Words can make or break you, kind words can lift up and change lives, unkind or cruel words can tear down and destroy.
My first experience with the power of words was in high school. My family was a typical American family, my mom did not use bad language or yell at us. My sisters were normal girls, with the usual sister fights, my brother was 6 years younger and we all babied him. So, there was mostly quiet in my home. My dad worked hard and had 2 jobs and was usually amiable and ready to relax when he got home at night, although he came from a feisty Italian/Spanish family.  We moved a lot and Mom's ever positive attitude helped foster a spirit of contentment from each place to the next.
Order The Gospel Parade Today!

Don't miss
 "The Gospel Parade!"
A great way to share the Gospel with your children
and grandchildren. A "read to" or read on their own,
    target audience is 6-10, but all ages will enjoy this!
Sunsets on Mobile Bay 2018 Calendar!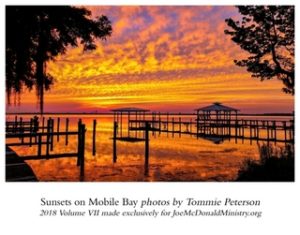 Available NOW, Volume VII of Sunsets on Mobile Bay. With amazing photography by Award-Winning photographer, Tommie Peterson! For the 7th year in a row, Tommie has donated his time and pictures to make this calendar, all proceeds (after printing) go to Joe McDonald Ministry (JoeMcDonaldMinistry.org.) 
Great for Christmas gifts, but order early, Lulu.com prints on demand and it takes about 2-3 weeks to receive your order. Thanks in advance and enjoy this beautiful calendar for 2018!

     
FROM PROFESSIONAL MOM!